How to expand a repertoire? The act of musicians commissioning or inspiring new works is nearly as essential as the work of composers who are inspired by or dedicate and write pieces for a particular musician. This collaboration is a necessity for any instrument as it has been for centuries; but for the bass trombone, long thought of only as an orchestral instrument, it's crucial. Bass trombonists have often dipped into other instrumental repertoire for worthwhile music to play and it's only within the last 50 years or so that original works meriting repeat performances have started to appear.
With the exception of five songs and two works for tuba, the majority of tracks on this recording are of pieces written originally for bass trombone. The tracks are a sampling of music-making from 2005 and 2006. Such a project can't be done without the help of friends: long time friend and collaborator Kathryn Goodson, the percussionist and tympanist Brian Jones, violinist Gabe Bolkosky, and the ears of the recording, Paul Eachus, Director of Audio Engineering at the Oberlin Conservatory of Music.
I play bass trombone in the Detroit Symphony Orchestra, and also am a lecturer at the Beinen School of Music at Northwestern University. One of the important things for me is maintaining my musical identity outside of the orchestra; chamber music and recitals are two of the activities I explore. I'm searching for good, rewarding music to play---a great melody, a way to express myself, which is also an opportunity that doesn't come around much within the orchestra. It is my hope with this cd that I can make people more aware of the great recital repertoire available today. Most of Barn Burner sessions took place in the Music Box, a large multi-purpose performance space down the hallway from Orchestra Hall in the Max M. Fisher Music Center of Detroit. Quadrivalence, Arioso and Waltz for Mippy III were recorded at Oberlin College in Warner Concert Hall. It is my hope with this cd that I can make aware to more people of the good repertoire that is available for recitals.
BarnBurner (1976) by Michael Udow (1949), is published by Equilibrium. Michael Udow has an extensive career as percussionist and composer. Dr. Udow served as principal percussionist with the Santa Fe Opera from1968 through his retirement after the 2009 season. His credentials also include being a member of the New Orleans Philharmonic, Summit Brass, the dance/percussion duo Equilibrium, the Tone Road Ramblers, and the Santa Fe Chamber Music Festival. Udow calls Barn Burner a multi-meter romp that calls for "optional" piano and two tom-toms. "This piece was conceived initially in this trio version for bass trombone, piano and percussion. It may also be performed as a duo without the piano or as a percussion solo. The percussionist plays two tom-toms and foot-pedal bass drum or foot-pedal woodblock. In this trio version, the melding of fortissimo dynamics with the cross-rhythmic hemiola of alternating and juxtaposed 3/4 - 6/8 meters within each part and between the parts if performed as an ensemble provides the impetus for the "idiomatic title." --Michael Udow. The work was written for and premiered by the Barton Workshop – James Fulkerson -trombone, Stephen Montague - piano, and Michael Udow -percussion in Cardiff, Wales 1976.
Elegy by Alfred Bartles (1930-2006) was written for and dedicated to bass trombonist Alan Raph in 1970. Bartles, a Nashville native, was a jazz pianist, classical cellist, and an accomplished composer. Over the course of his career, he lived, performed, taught, and composed in New York City, at Tennessee Tech University, and in Stuttgart and Bönnigheim, Germany, before finally retiring and returning to Nashville. This piece is meaningful to me because I came to know it through a collection of music that was given to me by the neurosurgeon and bass trombonist John Hubbard. I had known John for a few years, encountering him at trombone events, always impressed with his intelligence, knowledge and love of the bass trombone. When he knew he did not have long to live, John invited to his home and asked me to become the guardian to some of his music collection. I am dedicating this recording of Elegy to his memory.
The David Gillingham (b. 1947) Sonata for bass trombone and piano was written for Curtis Olson and premiered at the 1980 International Trombone Festival in Nashville on a recital Curtis shared with Christian Lindberg. One of the bass trombonists whose playing and teaching has influenced me greatly, Curtis has been trombone professor at Michigan State University since 1975. He commissioned many works for the instrument and through his virtuosity pushed the technical demands. An exciting piece for any concert, it is now part of the standard repertoire. The musical language of the sonata results in powerful collaboration between bass trombone and the piano over three strong movements, each incorporating complex rhythms, gorgeous melodies and intense counterpoint. David Gillingham earned Bachelor and Master Degrees in Instrumental Music Education from The University of Wisconsin-Oshkosh and the PhD in Music Theory and Composition from Michigan State University. Many of his works for winds are now considered standards in the repertoire.Dr. Gillingham is a Professor of Music at Central Michigan University. This sonata is Dr. Gillingham's second piece for bass trombone, after his Concerto for Bass Trombone and Wind Ensemble.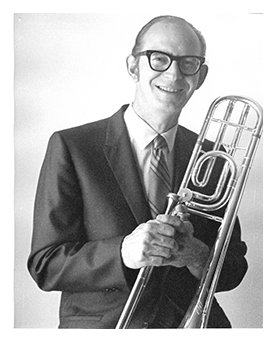 Quadrivalence for bass trombone and piano is a memorable compositional statement from a man very special to me. William H. Rivard wrote this piece at my request, when I was invited to perform at the International Trombone Festival in Kalamazoo Michigan in 1990. Knowing my influences, likes, and weaknesses, Dr. Rivard constructed the piece and presented it to me in the early spring of 1990. "Valance" is the bonding capability of an atom. Quadrivalence is made up of four valences or sections in this case. The musical style is derived from the 12-tone school. In Quadrivalence Rivard added a salute to Bartok (the famous glissandos acknowledging the Hungarian composer's own distaste for Shostakovich's 7th Symphony) as well as some other humorous sounds and musical quotes in that can, I suppose, be described as personal accolades for me, whether I deserve them or not. Being able to make "doink" sounds and to sing while playing are two skills Rivard knew I had--so he incorporated them. Knowing I needed to be challenged to improve my improvisational skills, he added a rather unorthodox progression in the piano for the trombone to play over.
"Doc R" was my trombone instructor at Central Michigan University from 1975 to 1980 and my guide, mentor and role model during my transformation from naïve student to professional. Dr. Rivard had a curiosity about music and a love for jazz that were matched by his quiet wit, sly sense of humor and excellent arranging skills. A trombone lesson would often begin at the piano where he would sit down and say, "Okay, you have to listen to this." Then he would play and explain a series of complicated jazz chords. Or a lesson would start with him dropping the needle on some obscure recording, often a George Roberts track. Rivard was the first to put those wonderful sounds in my ears and turn me into a life long fan. For those of you who may need enlightenment, George Roberts is probably the most influential bass trombonist ever, appearing on thousands of soundtracks and recordings.
William H. Rivard, (1928 – 2008), was born in Lewiston, Idaho, the son of G.A. Rivard and Margaret (Schmid) Rivard. Bill served in the United States Army during the Korean Conflict from 1951 to 1953. He married Nancy Love Hill on Nov. 28, 1953. He received his B.A. Degree from Puget Sound, M.U.S. from Florida State, and his PhD from University of Iowa. "Doc R" was a student of William Cramer among others. William Rivard enjoyed a prosperous career teaching trombone and music theory at Central Michigan University from 1959-1992. With his wisdom and experience he guided many trombonists and other musicians into the world of performing and teaching. Dr. Rivard was a member of the First United Methodist Church, a volunteer for the Commision on Aging, and a member of ASCAP. Rivard wrote a prolific amount of trombone ensemble with rhythm section arrangements, pieces for a variety of band and orchestra instrumentations, and besides Quadrivalence, two additional significant pieces for trombone and piano. These are his Sonata and J4U written for and premiered by John Marcellus. Quadrivalence is published and available through Encore Music Publishers.
Raymond Premru (1934-1998) wrote the Prelude and Dance for himself to play at the first International Brass Congress in Montreux, Switzerland in June of 1976. An accomplished jazz musician himself, he admired the jazz trombonist Bill Harris (1916-1973) and dedicated this piece to him. Bill Harris played lead trombone with the Woody Herman Band for years, was truly an original player who had a unique way of communicating with the trombone. His sense of humor often came through his playing including his use of vibrato and using different jazz styles in a virtuosic way.
Raymond Eugene Premru (1934-1998) was born in upstate New York and studied at the Eastman School of Music in Rochester: trombone with Dale Clark and Emory Remington, composition with Gladys Leventon and Bernard Rogers. Premru was an American trombonist, composer, and teacher, who was based for most of his career in London, England, then teaching for the remainder of his life teaching at Oberlin College in Ohio. His bass trombone playing was widely admired, was very influential and is preserved on hundreds of recordings in diverse genres, including the Philharmonia Orchestra and The Philip Jones Brass Ensemble. His teaching influenced many leading trombonists; and his compositions have been performed by leading orchestras and ensembles throughout the United States and Great Britain, contributing significantly, in particular, to the repertoire for brass instruments. Music for Three Trombones, Tuba and Orchestra(or piano reduction), composed in 1985, and recently published(2010) by Eric Carlson (CEC Music) is a fantastic edition to the repertoire, and well worth performing. In a 1981 interview with Capital Radio, Premru cited as influences the music of Berg, Prokofiev, Bartok and Ives, in addition to jazz and early Bach studies. Throughout his career his language remained one of relatively conservative mid-century modernism, with a bent toward gentle lyricism; though he wrote some works in a lighter vein, and jazz idioms and techniques pop up in even his most "serious" scores.
Arioso for Tuba and piano by Warren Benson (1924-2005), was written in 1959. It is a short, simple piece and a wonderful example of elegant writing for the tuba and an opportunity for expressive low register playing for the bass trombonist. As composer, conductor, percussionist, writer and humorist, Warren Benson was perhaps best known for his dynamic music for wind ensemble and percussion, and for his evocative song cycles. Benson wrote over 150 works, including pieces which have been heralded as masterpieces of the twentieth century. His music has been played and recorded worldwide by the Kronos Quartet, New York Choral Society, International Horn Society and United States Marine Band. Benson's teaching career spanned over 50 years and culminated with honors including the Kilbourn Professorship for Distinguished Teaching, and appointment as University Mentor and Professor Emeritus at the Eastman School of Music.
The eccentric New Englander Charles Ives (1974-1954) was a rebellious composer by night and cutting-edge insurance salesman by day. On this schedule over two decades, he not only invented the concepts of life and estate insurance, but also created massive works for full orchestra, choirs, solo piano and chamber ensembles. Some of his most profound and intimate music is found within the collections of songs for voice and piano, extremely diverse in emotional, musical and stylistic range. For this CD four songs are presented, all found in the 114 Songs collection. They are each based on texts Ives wrote himself.
Remembrance, 1921: This song is a very short but powerful tribute to Ives' father, George Edward Ives, a classic working musician: he played and taught violin and trumpet all over the region and led choirs and bands as well. His influence on his prodigious son was larger-than-life, particularly with his explorations of dissonance and sound collages. It was his idea to stage bands playing different music, marching in opposite directions and passing each other. G.E. Ives also stationed different brass players in belfries and hilltops around Danbury, CT., to obtain the polyphonic effect of sounds crisscrossing from afar. Charles Ives cites a Wordsworth line evoking the image of a far-off horn at the start of Remembrance. For this recording we used three instruments for the three lines of vocal and two-handed piano parts: violin, bass trombone and piano. The muted bass trombone is the voice far off in the distance. The Ives lyric: The sound of a distant horn o'er shadowed lakes is borne, my father's song.
There is a lane, 1902: This early song is simple and sentimental, a tune in the style of Stephen Foster with a few more sophisticated harmonies the last few bars.
The Side Show, 1921: Ives had an impish sense of humor. This song is a brief, lopsided waltz, alternating 2/4 and 3/4 time. A melody from Tchaikovsky's 6th Symphony in the last few bars, which connects to the "Russian dance" part of the lyric.
Autumn, 1908: Ives loved the countryside, where he and his wife Harmony owned a farm to escape Manhatten. He loved watching corn turn gold in the fall and the quiet beauty of this experience is perfectly rendered in this piece, where the first line of the lyrics is: "Earth rests".
Alec Wilder (1907-1980) was another true American original. Born in Rochester, New York he charted his own course in life and in music. The biography, Alec Wilder; In Spite of Himself by Desmond Stone aptly conveys a sense of this unique individual. Mostly self taught, Wilder refused to be categorized as a composer, and was highly opinionated about the state of music in the United States. He wrote much of his music for friends as gifts, and had many celebrities as acquaintances. As a young man he left a life of privilege in Rochester N.Y. and moved to New York City to make the Algonquin Hotel his permanent home. He traveled widely and often through America, mostly by train where he felt comfortable cocooned in a compartment. In addition to his huge output of chamber music, he wrote sonatas for virtually every instrument except for the violin, for which he thought there was already plenty of music for. His book American Popular Song, the Great Innovators, 1900-1950, published in 1972, is an insightful commentary on some of America's greatest composers. The bass trombone sonata, one of the most often performed sonatas for the instrument was premiered on March 24, 1969, by Russ Schultz, who was studying with Emory Remington at the Eastman School of Music in Rochester, New York. In hopes that Mr. Wilder would find it appealing, I've added a drum set to the Wilder, possibly nudging it one step closer to jazz as it skirts the fence between the legitimate and the popular styles. Brian Jones assembled the part on percussion, adding a deft touch to each of the five movements, which range in style from strident to poignant to a swinging finish.
Leonard Bernstein (1918-1990) wrote Waltz for Mippy III for tuba and piano as a salute to one of his brother' Burtie's dogs, each of whom was named Mippy. Mippy III was a mongrel. This graceful waltz for tuba was commissioned by the Julliard Musical Foundation and published in 1950. Build My House is from the Bernstein musical Peter Pan, (an adaptation of J.M.Barrie's 1904 "Peter Pan,") was written in 1950. That Bernstein wrote the lyrics as well as the music for the songs gives this package a unique place in the catalogue of recordings of Bernstein's work for the stage. He came up with a number of lovely expressions for Wendy's softer moments ("...build my house of love / and paint my house with trusting /and warm it with the warmth of your heart. / Make the floor of faith. / Make the walls of truth. / Put a roof of peace above. / Only build my house of love.
Thanks for the production of this recording go to my family; my wife Kim who unselfishly helps me to pursue my passions, daughter Armani and Son Michael who constantly inspire me with accomplishments and passions of their own. Thank you also to Kathryn Goodson, who not only provided wonderful musical inspiration and helped in a significant way with these notes but also kept me on task to get this done.
To buy Barn Burner now, please visit: http://www.encoremupub.com/products/Barnburner-CD.html